Home
News
Expulsion of students alleged to be involved in threesome from hostel was unauthorised – UPSA Management
Expulsion of students alleged to be involved in threesome from hostel was unauthorised – UPSA Management
Expulsion of students alleged to be involved in threesome from hostel was unauthorised – UPSA Management
The management of the University of Professional Studies, Accra (UPSA) says it has not taken a decision regarding two female students accused of lesbianism during a threesome.
In a press statement, the school's registrar said the Vice-Chancellor is the Chief Disciplinary Officer and all actions taken him or her are communicated through the Registrar.
"Any disciplinary communication that does not follow the above procedure is not authorised Management," the release added.
Management has, therefore, urged the public to disregard the earlier decision on the matter being circulated on social media since "no disciplinary report on the alleged incident is before it for a final decision."
This comes after a notice sighted Myjoyonline.com, that two female resident students have been expelled from the institution's Hostel for allegedly engaging in a threesome, which includes a non-resident male.
According to the notice signed the Director for the Board of Disciplinary Committee (BDC), Robert Gyeke-Darko, the said females fondled each other during their sexual escapade and engaged in some form of lesbianism.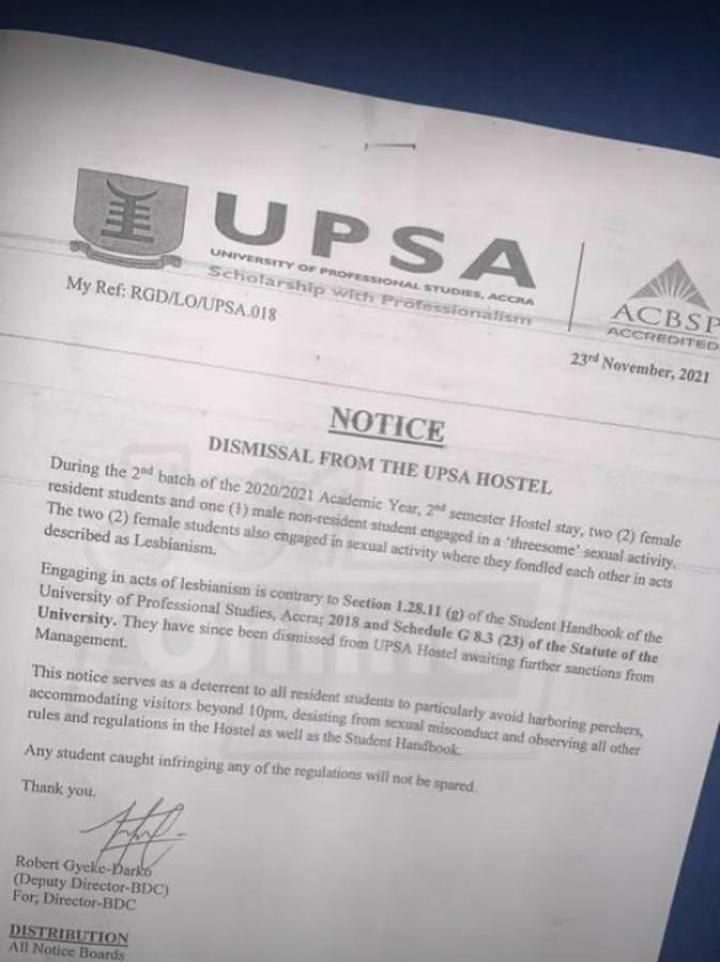 "Engaging in acts of lesbianism is contrary to Section 1.28.11(g) of the Student Handbook of the University of Professional Studies, Accra; 2018 and Schedule G 8.3 (23) of the Statute of the University.
"They have since been dismissed from UPSA Hostel awaiting further sanctions from Management," part of the announcement read.
Also, JoyNews sources at UPSA say one of the female students alleged to have engaged in lesbianism has been notified of her dismissal from the Hostel.
Parts of said letter signed Director for the Board of Disciplinary Committee, Dr Albert Martins, said, "You (Salia) are this letter dismissed from the Hostel with immediate effect. This means you cannot book and stay at the UPSA Hostel throughout your student life at the University."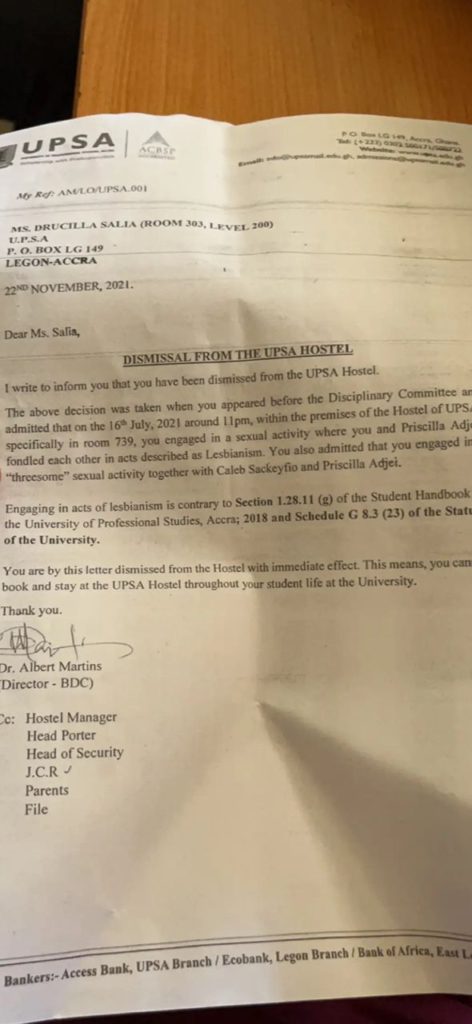 "The above decision was taken when you appeared before the Disciplinary Committee and admitted that on July 16, 2021, around 11 pm, within the premises of the Hostel of UPSA, specifically in room 739, you engaged in a sexual activity where you and Priscilla Adjei fondled each other in acts described as Lesbianism.
"You also admitted that you engaged in "threesome" sexual activity together with Caleb Sackeyfio and Priscilla Adjei," the letter added.
Listen to this article A flagbearer hopeful of the opposition National Democratic Congress…